Questions to ask your venue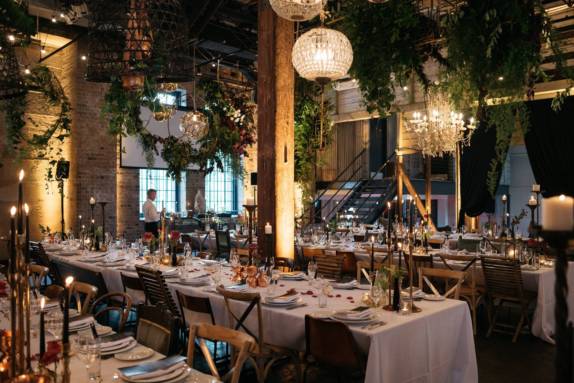 Photo credit: Studio Something Photography
Enquire about the date
Is it available?
Some venues have multiple rooms for different capacities, ask which room is available for your date.
Enquire about size and particulars of the facility
Can the facility comfortably accomodate the size wedding and number of guests you are planning?

Does it have handicapped guest access?

Does it have air-conditioning?

Bridal dressing room – Is there a room available for the bride to use prior to and during the reception to charge?
Enquire about the decor of the facility (keeping in mind your styling requirements) 
If you haven't seen it already, ask for pictures of the facility whilst it is set up for a wedding

Can you make any changes? 

If there are decor and table and chairs setup that you see now and you like, ask if they are included in the package or would you need to pay a different price for that? (e.g. paying extra for Tiffany chairs)

Depending on your styling requirements, if you are doing floral ceiling, ask or see for yourself if the venue has rigging for floral installation.

Ask if the venue has any planned remodelling, redecorating from now until your wedding date – you don't want construction going on during your reception

When will you be able to access the reception rooms for decorating, styling?

Do you allow confetti, rose petals or the lighting of candles.
Enquire about the hours
Most receptions last between 5-7 hours – ask how many hours you will have for your reception.
Enquire about Money
How much is for venue hire and catering? Or do you pay a packaged price? If so, what does the package include? 

Can you get just venue hire and catering? If you are to take a package, will the venue deduct the cost of the items that you don't want/need? 

What is the deposit? When is the remaining balance due? Is it refundable if you change your mind?

What is the cancellation policy?

What's the discounted rate for weekday or Sunday weddings?
Enquire about any extra charges
Does the venue hire include table, chairs, linen, cutlery and glassware or do you have to pay extra for that? 

Are any additional fee charged, such as a few to cut the wedding cake, for a dance floor (I have seen additional & stylish dancing floor installation for weddings), or to use a sound system? 

What about corkage fee? 

Any additional charge for dress rooms for bride, groom and bridal party? Can they be locked when no one is around?

Ask here also about public liability and if all your suppliers and service providers need to have one or purchase one to be on the venue's premise.
Enquire about the food
What are the menu choices? Sit down 3-course-meal, cocktail, vegetarian, food bar, food stations, buffets, tapas or banquet?

Ask about food sampling or food tasting – when can you do this and if you have to pay extra for that?

If a venue uses an external caterer, ask if you have to use their caterer or can you bring your own caterer in?
Enquire about alcohol and bar service 
Are you able to bring in your own alcohol? If so, what is the corkage charge?
Enquire about entertainment
Is the dance floor big enough for guests? 

Ask the facility manager to show you where the band or DJ would setup their equipment.
Enquire about parking
Is it readily available? 

Are there disables facilities?

Are there any other events that will make parking difficult for your guests on the day?

Any special parking rate for weddings?
Enquire about any restrictions or special situations
If you or your guest have special requirements, ask those questions too. (e.g. weather contingency plan for outdoor spaces)
Hope you enjoyed and found the read useful, always!
Kate xx