The Passion of Red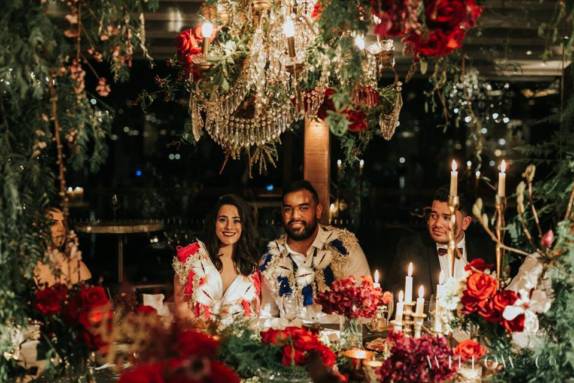 Long has the red rose been the enduring symbol of love and so what better way to begin your life long bond than a wedding bound in deep and passionate hues of red.
Whilst Chinese tradition sees red as a sign of good luck delivering the promise of happy years ahead, Western culture associates red with love, as we see in Valentine's Day, weddings to ceremonies held during Christmas. Masses of red roses gathered together, or their petals scattered on the floor adorning the way to the altar are sure to spell romance. You can sprinkle them across the tables at the reception as well. Small bunches, huge over-stuffed ones, single blooms – no matter how you use them, red roses sigh with passion.
Not every colour can translate well through the entire day, but red does. From flowers, clothes, lips, shoes, food and even drink, red imbues everything with a touch of passion. As you glide effortlessly towards your groom let each step sparkle with tiny diamantes on the high heels of your magic red slippers.
The colour can be used in bold, theatrical strokes or more subtle touches here and there. Standing alone, or paired with black, red gives striking drama effect on table settings, even cake decoration. Imagine the beauty of your white gown accentuated by a glorious bouquet of red roses.
How could anyone forget the glamour of a reception embellished with dreamy scarlet roses and opulent details? Red can be styled magically against a dark green and with the chandelier effect. Guests will revel in the warmth and strong energy surrounding them. Classic and elegant, a red themed wedding inspires on many levels, leaving a vision that will be hard to forget.